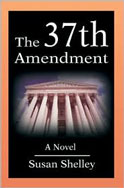 Copyright 2002
Click here to get this book

---
Title Page
Dedication
Epigraph
Chapter 1
Chapter 2
Chapter 3
Chapter 4
Chapter 5
Chapter 6
Chapter 7
Chapter 8
Chapter 9
Chapter 10
Chapter 11
Chapter 12
Chapter 13
Chapter 14
Appendix:
How the First Amendment Came to Protect Topless Dancing: A History of the Incorporation of the Bill of Rights, Why It's a Problem, and How to Fix It
(the appendix will open in a new browser window)

---
Buy this Book
---
About the Author
Op-Ed articles by Susan Shelley:
"A Retirement Plan for Sandra Day O'Connor"
"How the First Amendment Came To Protect Topless Dancing"
"Marijuana, Prohibition and the Tenth Amendment"
---
Copyright 2002 by Susan Shelley. All Rights Reserved. This material may not be republished, retransmitted, printed, copied or distributed in any manner, in whole or in part, without the written consent of the author. Permission is granted for publication of short excerpts in the context of a review or commentary, provided the material is appropriately credited.


You're on the site for The 37th Amendment, A Novel by Susan Shelley.