Columnist Susan Shelley...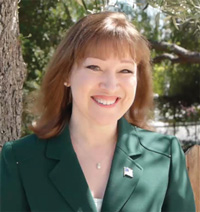 ...writes twice-weekly opinion columns for the Southern California News Group, eleven newspapers and their digital editions including the Los Angeles Daily News and the Orange County Register. She's a frequent guest on radio and TV news/talk shows and speaks often to groups and organizations about California politics and policy.
---
The Latest: The hearing is scheduled for Wednesday, June 19, 2019, at 9:00 a.m., at the Office of Administrative Hearings, 320 W. 4th Street, Suite 630, Los Angeles. You're cordially invited, it's open to the public. Here's what's going on (click the cake with the file in it for details).
Susan's bio
Susan Shelley is a columnist and a member of the editorial board of the Southern California News Group, eleven daily newspapers including the Orange County Register and the Los Angeles Daily News. She writes on national, state and local issues with a blend of deep research and clear thinking that has inspired an army of fans across Southern California.
Susan also serves as president of Valley VOTE, a nonpartisan civic organization in the San Fernando Valley area of Los Angeles, and she is Vice President, Communications, of the Howard Jarvis Taxpayers Association.