Susan Shelley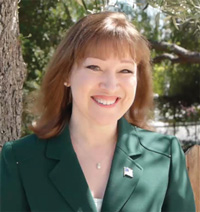 Susan Shelley is a columnist and editorial writer for the Southern California News Group, eleven daily papers including the Orange County Register, the Los Angeles Daily News, the Long Beach Press-Telegram and the Riverside Press-Enterprise. She's also Vice President of Communications for the Howard Jarvis Taxpayers Association, the most influential taxpayer advocacy group in California. Susan's a frequent guest on Southern California radio and TV news and interview shows, and she's the co-host of the new Howard Jarvis Podcast for KABC.
---
Susan's California Ballot Measure Recommendations
Election Day is November 3, 2020, and early voting is available. Check here for voting locations, dates and hours of operation: CAEarlyVoting.sos.ca.gov
No on Proposition 14: In 2004, California voters authorized $3 billion in bonds to create and fund the California Institute for Regenerative Medicine to support stem cell research. The money is gone and the CIRM wants voters to approve another $7.8 billion including interest. But stem cell research is now funded by other entities and California taxpayers shouldn't shoulder this burden. No on 14.
No on Proposition 15: This is an attack on Proposition 13 that would require counties to reassess properties to market value every three years if those properties are used for commercial or industrial purposes, with a few narrow exceptions. Even the smallest businesses that rent their space from larger businesses would see devastating increases in their operating costs. Are homeowners next on the menu? No on 15.
No on Proposition 16: This measure would repeal Proposition 209, which banned the consideration of race, sex, color, ethnicity or national origin in public employment, contracting or university admissions. However, it's currently legal to consider diversity, so Prop. 16 can only lead to quotas. No on 16.
No on Proposition 17: California currently does not allow citizens to vote if they are in prison or on parole. This measure would restore voting rights to people who have completed their prison term. But it's not unreasonable to believe that people on state parole should complete that term as well before voting rights are restored. No on 17.
No on Proposition 18: This measure would lower the voting age. A 17-year-old who will turn 18 by the general election in November would be allowed to vote in primaries and special elections. High school students, perhaps voting by mail right in the classroom under the watchful eye of their teacher, shouldn't vote on tax increases. No on 18.
No on Proposition 19: Easily the most deceptive ballot measure of the year, Proposition 19 has a veneer of "protecting wildfire victims," but this measure includes a billion-dollar tax increase on California families. It repeals Proposition 58 and would require the reassessment to market value of property transferred between parents and children. Currently, under Prop. 58, a home of any value and up to $1 million of assessed value of other property are excluded from reassessment when transferred within families. Prop. 19 eliminates that protection and replaces it with a narrow exclusion: only if the transferee moves in within a year and it's that person's primary residence. Small family business properties lose the protection entirely. No on 19.
Yes on Proposition 20: This measure fixes problems with Proposition 47 (2014) and Proposition 57 (2016), measures that were supposed to fix problems with the criminal justice system but caused other problems. On one key point, both supporters and opponents agree that it's now harder to get troubled people into drug rehab programs because courts have lost their leverage. The consequences of that change have been far-reaching and disastrous. Yes on 20.
No on Proposition 21: Rent control is not the answer to California's housing crisis, because it leads to less housing. This measure would allow more, and more radical, rent control laws, even on single-family homes. No on 21.
Yes on Proposition 22: This measure exempts drivers for app-based services such as Uber, Lyft and DoorDash from a disastrous law, AB5. It would allow drivers to remain as independent contractors, which is essential to the continuation of those businesses in California. Yes on 22.
No on Proposition 23: This is a needless government mandate on dialysis clinics that would add extra costs to health care. There's no good reason for it. No on 23.
No on Proposition 24: California's consumer privacy law took effect this year. This measure rewrites it and adds a new state agency to write regulations, open investigations, levy fines and otherwise make life unbearable for businesses that rely on websites and apps to reach customers. The last thing California needs is a regulatory stranglehold and endless new legal compliance costs burdening technology development. No on 24.
Yes on Proposition 25: This is a referendum on Senate Bill 10, a state law that abolished cash bail and replaced it with a system of judicially supervised risk assessment. One out of five Californians lives in poverty. Imagine that you're wrongly accused and arrested, and you can't afford bail. You'll be locked up, perhaps for months, with life-destroying consequences such as job loss, debt and eviction. SB10 was an effort to enact a better system. A "yes" vote on Prop. 25 will put that new law into effect, and a "no" vote keeps the cash bail system in place. The new system will cost hundreds of millions of dollars, and it's true that it's a bad time for that. But there is perhaps nothing the government does that is of greater consequence than the fair administration of justice. Impoverished people who have not been convicted of a crime should not face disproportionate penalties for being arrested. Yes on 25.
In local Los Angeles measures, I recommend a vote of No on Measure RR, which would authorize the Los Angeles Unified School District to borrow $7 billion (!) for vaguely defined construction projects and the usual promise to remove asbestos. I recommend a vote of No on Measure J, which amends the county charter to require the diversion of hundreds of millions of dollars a year from law enforcement to vaguely defined racial equity programs run by nonprofit organizations.
Check the status of your registration at RegisterToVote.ca.gov and find your nearest voting location or ballot drop-box location at CAEarlyVoting.sos.ca.gov. To track your mail ballot and make sure it's received and counted, visit WheresMyBallot.sos.ca.gov.
Susan Shelley is an editorial writer and columnist for the Southern California News Group. Susan@SusanShelley.com. Twitter: @Susan_Shelley