The Charlie Sheen Party
There is something really interesting about the public's reaction to Charlie Sheen's recent — well, we won't characterize it. You have your own opinion and you're entitled to it.
But you can't help but notice that while people in suits were making dour faces and demanding that Charlie Sheen show contrition, repentence, and general self-abasement, the reaction out in the country was something completely different.
Mr. Sheen announced that he would do a one-man show at Radio City Music Hall and tickets sold out in less than 30 minutes.
Mr. Sheen advertised for an intern and received, reportedly, 74,000 resumes.
A party supply store offered "Charlie Sheen Party" merchandise alongside its Easter Bunny gear. Seriously.
"Throw a Charlie Sheen party and you'll be Winning, duh!" the Shindigz web site promises. "Get your tigerblood flowing with these Charlie Sheen Party Supplies. Your friends will think you're playing Jedi mind tricks with them when you invite them to your Charlie Sheen party but, really, you'll be a Rock Star from Mars. Go #TeamSheen!"
Interested in throwing a Charlie Sheen party? You can decorate the living room with a Tigerblood banner for $14.79 and don't miss out on the Goddess tiara for $37.99. Buy two of them because, well, you know.
Really, we're not making this up:

Click the picture above to enlarge it.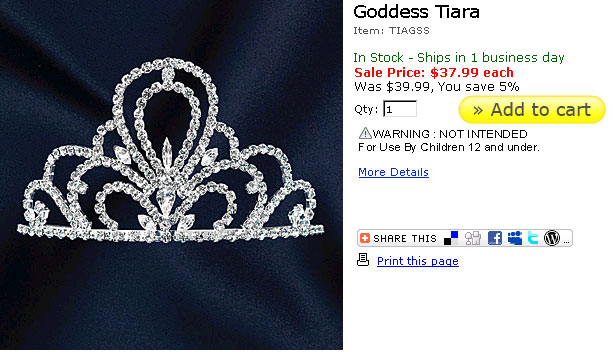 You'll know Mr. Sheen's lawyers are reading this blog if you click the links to Shindigz and the pages already read, "Generic Actor Meltdown Party."
But America Wants To Know isn't interested in litigation over celebrity name and publicity rights. We're interested in novelist Ayn Rand's theory that the official morality of self-sacrifice, which has been taught to all of us from childhood, is secretly despised and rejected by almost all the people who profess to agree with it.
We hope Charlie Sheen is well and happy and lives to be 120. We're not here to debate the health benefits or consequences of whatever he's done or is doing.
We're interested in why the general population is throwing Charlie Sheen parties, mixing Charlie Sheen Tigerblood cocktails, buying tickets to see him stand on a stage without a script, and applying in droves to be his unpaid intern.
And we think we found the answer:
"In Sienkiewicz's Quo Vadis," Ayn Rand wrote in The Romantic Manifesto, "the best-drawn, most colorful character, who dominates the novel, is Petronius, the symbol of Roman decadence–while Vinicius, the author's hero, the symbol of the rise of Christianity, is a cardboard figure.
"This phenomenon–the fascinating villain or colorful rogue, who steals the story and the drama from the anemic hero–is prevalent in the history of Romantic literature, serious or popular, from top to bottom. It is as if, under the dead crust of the altruist code officially adopted by mankind, an illicit, subterranean fire were boiling chaotically and erupting once in a while; forbidden to the hero, the fire of self-assertiveness burst forth from the apologetic ashes of a 'villain.'"
Interesting, isn't it?
Read the whole book. Ayn Rand is worth your time.
If you've never read her masterpiece novel, Atlas Shrugged, you'll have an opportunity to take a shortcut next month when the LONG-awaited movie version of the 1957 novel premieres in the United States.
Actually, the movie only covers the first third of the book. But it's going to be worth your time anyway, even though you'll be exasperated that the movie ends with the mystery unsolved.
Take home some popcorn and buy the book.
© 2011
Editor's note: You may be interested in the 2009 post, "Decoding Don Draper."