About Argus Hamilton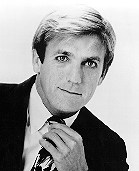 Who is Argus Hamilton, and why is everybody quoting him?
Meet the funniest topical comedian in America, the man Robin Williams once called "the Will Rogers of the Baby Boom." Argus Hamilton's daily column of jokes on the news, now carried in over 100 newspapers across the United States, is also read and heard by millions on the Internet and on radio stations across the country.

Argus James Hamilton III is the son, grandson and great-grandson of Methodist ministers in the South. A proud graduate of the University of Oklahoma and now based in Los Angeles, Argus brings an unusual perspective to the news from Washington and around the country. "I'm an English Monarchist and a Southern secessionist," Argus jokes. "Let's see Rush Limbaugh get to the right of that."

Argus Hamilton performs at corporate, political and charity events around the country. When he's in Los Angeles, he can be seen working out the latest material nightly at The Comedy Store in Hollywood.
Argus is regularly quoted by daily newspapers including the San Francisco Chronicle, the Los Angeles Times and the Seattle Times, by weekly business papers including the Orange County Business Journal, by Time magazine, by sports columnists around the country, and by radio hosts who took a cue from the late Paul Harvey, one of Argus' longtime fans and admirers.
Argus was honored by Oklahoma Governor Brad Henry as the official comedian of the Oklahoma Centennial and appeared with the governor in the 2007 Tournament of Roses Parade.
You can read Argus Hamilton's outrageously funny humor column on the Internet Tuesday through Friday and Sunday -- at www.argushamilton.com/today.htm.